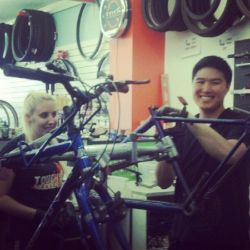 A team of volunteers from Intel
Did you know that our volunteers collectively donate over 500 hours each month?
WashCo Bikes is staffed almost entirely by volunteer labor. Our volunteers include bike mechanics, event managers, educators, and more. We couldn't do our work without our volunteers. We welcome groups, so think about us when you are planning your next service project for your coworkers, scout troop, or church group. Whether you can spare one hour a week or 20 hours a month, we would love to have you in our community!
We can't wait to hear from you!