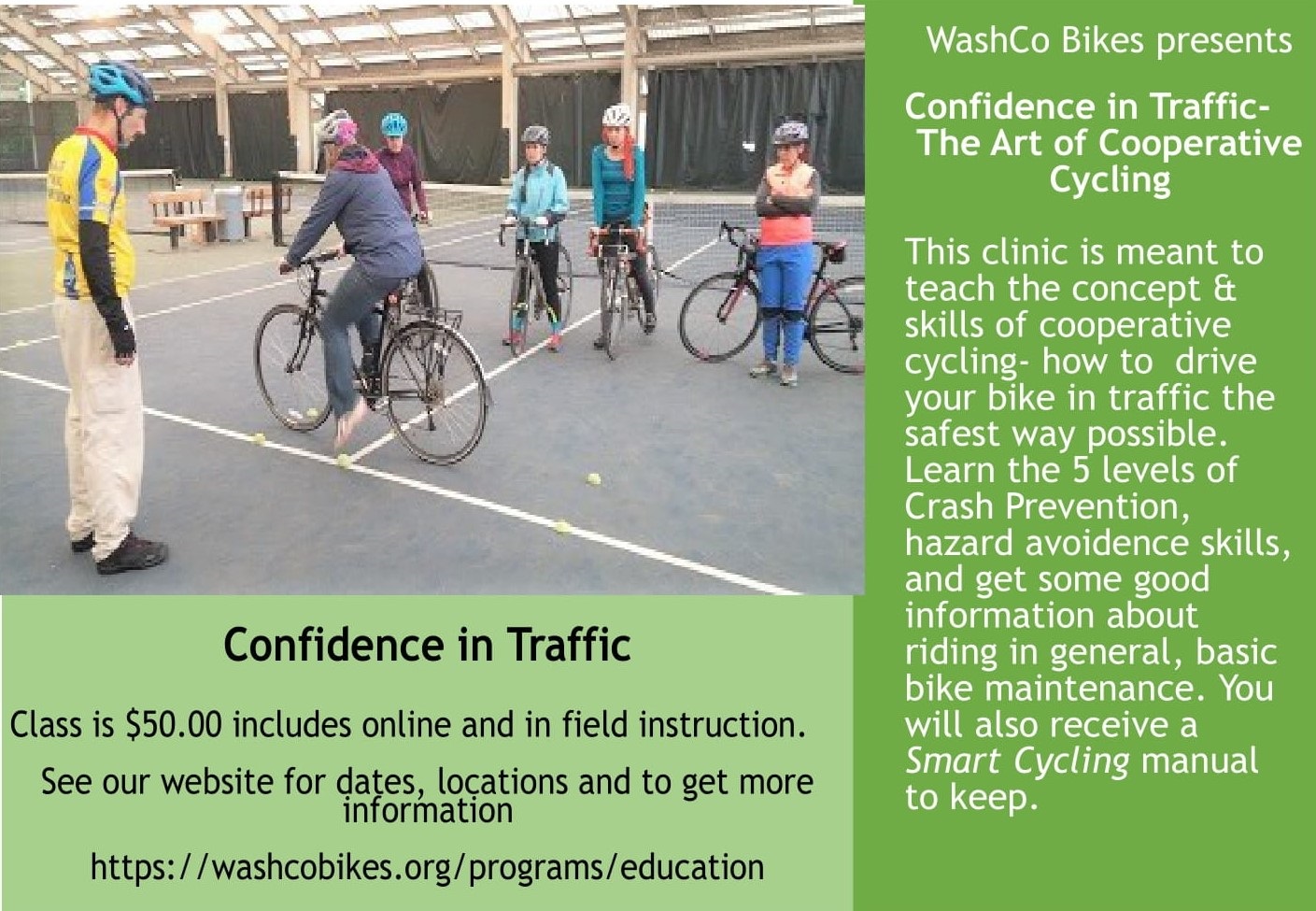 CIT (Confidence in Traffic)
Are gas prices getting you down? One good way to save money on gas, reduce your carbon footprint, and increase your own health and well being is to ride a bike- for fun, to the store, to work, or wherever.
WashCo Bikes is your local source of affordable bikes, parts, and service at our Community Bike Center at 137 NE 3rd in Hillsboro.
If you are nervous about riding on the streets, WashCo Bikes also offers our Confidence in Traffic clinics to teach you the Five Levels of Crash Prevention. You can eliminate 90% of crashes with the first three levels! We can also teach you basic bike maintenance, give riding tips, etc. Class sizes are limited, so don't wait to register. For more information, see our website- www.washcobikes.org/programs/education, or email classes@washcobikes.org
League Cycling Instructor Training
If you think teaching youth and adults the concepts and skills of riding more safely in traffic, then we urge you to become a trained and certified League Cycling Instructor (LCI).
This year, WashCo Bikes and the League of American Bicyclists is offering a certification seminar in the Portland area (Lake Oswego) on August 19-21st.
This seminar is a 2 ½ day intensive seminar that teaches you how to teach to others the concepts and skills the League has developed.

To qualify, you must pass the Confidence in Traffic clinic.

You must also become a member of the League.
For more information about the seminar itself click, LCI Certification
To register for the 2022 LCI Seminar in Lake Oswego

Registration price: $500
Late registration: $575.00 beginning July 16, 2022
Registration closes: July 22, 2022
Note: WashCo Bikes may have a very limited number of scholarships available, especially for underserved or minority candidates. Please email classes@washcobikes.org for more information.