WashCo Bikes Board of Directors Has Openings
WashCo Bikes is in a growth phase. We are seeking individuals who are passionate about our mission, and with leadership, organizational management, and communication skills from diverse backgrounds who fully represent the all facets of the bicycling culture in Washington County. Specifically, we are seeing individuals with experience in business, finance or accounting (for the Treasurer position), as well as project management, law, human resources, and general nonprofit management.
WashCo Bike's Board of Directors plays an important and very "hands on" role in the operation and promotion of the organization and its mission. We are a working board in addition to long term planning and management of the organization.
Formal board meetings are held once a month. As the organization is still quite small, there are opportunities/needs for board members to take on additional volunteer duties, or pursue special projects outside our formal meetings.

Our Mission
The mission of the Washington Country Bicycle Transportation Coalition (WashCo BTC) is to promote bicycle transportation, protect bicyclists' rights and improve bicycling conditions throughout Washington County, Oregon through education, advocacy and community.
WashCo BTC is a 501(c)(3) non-profit organization whose members have been a voice for the bicycling community in Washington County, Oregon since 1998. WashCo BTC was initially formed as a chapter of the Bicycle Transportation Alliance. In 2005, it became an independent non-profit agency to promote bicycle education, and rider empowerment while advocating bicycling interests and supporting events that encourage community participation. Since its inception, WashCo BTC has grown from a group of activists with commitment and energy to a focused organization with members serving on project committees, advisory boards, and other forms of citizen involvement at all levels of government.
The organziation provides clinics and educational events. You can sign up for classes focused on how motorists and bicyclists can share the road, pointers for the everyday commuter, and classes in advanced bicycle maintenance and handling skills.
WashCo BTC is proud to offer a community bicycle center that offers "anything bicycle," where anyone can repair a bike, buy a used one, and learn how and where to ride. Community rides and group ride clinics for the uninitiated also will be available.
What is the Goal of WashCo Bikes?
WashCo Bikes wants everyone in the community to experience the joy of riding a bike. When possible we want to see more people trade the four wheels of their car for the two wheels of a bike. We want to improve the safety of our roads for all users. We believe that cyclists will ride more and have more confidence on the road if they have the knowledge and skills to ride in a safe and legal manner. And through our Saddle Up Summer Bike Camps for kids, we want to plant the bicycling seed in the next generation with the goal of producing lifelong cyclists.
What WashCo Bikes Offers the Community
WashCo Bikes' Community Bicycle Center provides reasonable cost used bikes, accessories, and repair services for the community. Our newly expanded hop now affords us the space to offer a broader range of programming, like basic bike maintenance classes, to the public With a focus on recycling or rebuilding unwanted bikes, our group keeps hundreds of bicycles out of the landfill each year and instead gets them into the hands of people who can use and enjoy them!
Saddle Up Summer Bike Camps provides a great experience for youth ages 9-12. While the focus is on learning safe cycling skills, campers have a huge amount of fun riding with friends to new places and participating in unique learning experiences. Our goal is simple- we wish to foster the next generation of life long cyclists.
The Adopt-a-Bike program is also focused on youth. We give bike, helmets, and locks to up to 200 low income and deserving youth in Washington County. We also give some free bikes to low-income adults.
We provide a variety of bike safety educations for both youth and adults. Currently, we are in the process of delivering safety programming for the Safe Routes to School programs in several school districts. During the past 10 years, several hundred adults have taken and benefited from our Confidence in Traffic clinics. Through a combination of online and on street training, participants learn traffic laws and develop the skills to safely and confidently ride their bikes in traffic. These clinics are taught by League Cycling Instructors who are trained and certified by the League of American Bicyclists.
As WashCo Bikes continues to grow, we will seek opportunities to develop and present a variety of family focused events. Our goal is to get people out, active, and on bikes her in Washington County. Some examples include the Rock n' Roll Ride and Gold Rush Fun Run this September, future bike rodeos for kids and other bike-related programming, outreach, and advocacy.
Board Members
Members of our all-volunteer board come from diverse backgrounds and interests with a similar passion for bicycle use, safety, education and recreation. Some of have been with us since we started as the "Squeaky Wheels" formed in 1996 to rail against the poor connectivity, infrastructure and support of bicycling as viable transportation within the county.
With 13 cities, Metro, ODOT and Washington County LUT (Department of Land Use and Transportation) to contend with, this has been no small task. Here then, are the list of those currently serving to provide Education, Advocacy and Community to county residents.
Steve Boughton

Board Chair

Steve provides leadership, management, and organizational skills, as well as overseeing financial performance and control for WashCo Bikes.

He is a League of American Bicyclists, League Cycling Instructor (LCI) and offers classes on topics like Bicycle Confidence in Traffic, click here to view more about our classes.

Shannon Humphrey

Board Member

Shannon joined the board in December 2017.

Emily Hackett

Board Secretary

Emily served on the board from 2010 through 2015 and directed the Tour de Parks from 2011 through 2013. She rejoined the board in July 2019. Emily is an avid bike commuter and mountain biking newbie.
2018 Executive Director- Joe Kurmaskie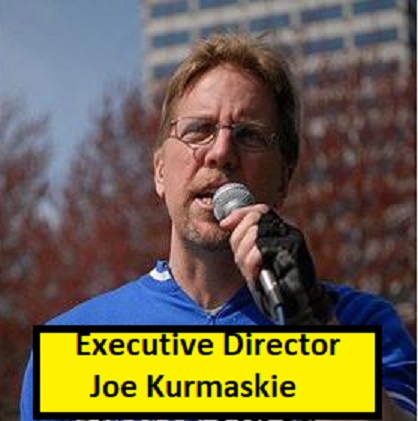 Joe Metal Cowboy Kurmaskie joins the rebranded WashCo Bikes, as the executive director. "I'm pumped to invigorate the suburbs and outlying community west of Portland with exciting new programs while expanding quality existing ones.
Yes, this is an uphill, herculean challenge that I absolutely relish."
More specifics in days to come, but with your help we'll:
Create a weekend festival of the wheel around our holiday Adopt A Bike program - including ride, safety rodeo and bike themed gift fair.
Re-brand and expand our summer bike camps.
Create a Freewheeling Festival Of The Bike around our adopt a bike program, including a Bike Craft weekend and holiday ride.
Bring a Sunday Parkways series to all of Washington County.
Expand and grow our community bicycle shop in Hillsboro and new shops/presence countywide.
Create a Mechanics- scholarship and internship program.Expand our advocacy and safety classes, clinics, safe routes and education.