Board of Directors
Board Chairman- Steve Boughton
Carl Nelson- Director
Mike Mulligan- Director
Shannon Humphrey- Director
WashCo Bikes Board of Directors Has Openings
Our Mission
The mission of the Washington Country Bicycle Transportation Coalition (WashCo BTC) is to promote bicycle transportation, protect bicyclists' rights and improve bicycling conditions throughout Washington County, Oregon through education, advocacy and community.
WashCo BTC is a 501(c)(3) non-profit organization whose members have been a voice for the bicycling community in Washington County, Oregon since 1998. WashCo BTC was initially formed as a chapter of the Bicycle Transportation Alliance. In 2005, it became an independent non-profit agency to promote bicycle education, and rider empowerment while advocating bicycling interests and supporting events that encourage community participation. Since its inception, WashCo BTC has grown from a group of activists with commitment and energy to a focused organization with members serving on project committees, advisory boards, and other forms of citizen involvement at all levels of government.
The organziation provides clinics and educational events. You can sign up for classes focused on how motorists and bicyclists can share the road, pointers for the everyday commuter, and classes in advanced bicycle maintenance and handling skills.
WashCo BTC is proud to offer a community bicycle center that offers "anything bicycle," where anyone can repair a bike, buy a used one, and learn how and where to ride. Community rides and group ride clinics for the uninitiated also will be available.
Board Members
Members of our all-volunteer board come from divere backgrounds and interests with a similar passion for bicycle use, safety, education and recreation. Some of have been with us since we started as the "Squeaky Wheels" formed in 1996 to rail against the poor connectivity, infrastructure and support of bicycling as viable transportation within the county.
With 13 cities, Metro, ODOT and Washington County LUT (Department of Land Use and Transportation) to contend with, this has been no small task. Here then, are the list of those currently serving to provide Education, Advocacy and Community to county residents.
Steve Boughton

Board Chair and acting Executive Director

Steve provides leadership, management, and organizational skills, as well as overseeing financial performance and control for WashCo Bikes.

He is a League of American Bicyclists, League Cycling Instructor (LCI) and offers classes on topics like Bicycle Confidence in Traffic, click here to view more about our classes.

Carl Nelson

Board Member

Carl has been a Board Member since 2008. He was the original founder of Tour de Parks annual ride. Carl is a League of American Bicyclists Certified Instructor (LAB). He enjoys working with children, teaching safe cycling skills. Click here to view more about our classes.

Shannon Humphrey

Board Member

Shannon joined the board in December 2017.

Mike Mulligan
Board member
Mike is an avid cyclist and has applied this love for two wheels through many roles. Mike has served on Beaverton's Bicycle Advisory Committee for 10 years. As a part of this committee, he has been heavily involved each year in the planning and execution of our family-friendly Bike Beaverton ride. He has also helped with the BTA's (The Street Trust) Safe Routes to School program. In the past, Mike was also involved in designing routes and leading longer rides with American Youth Hostels, participated and volunteered in many charity rides, and worked at the Washington Area Bicyclist Association.
2018 Executive Director- Joe Kurmaskie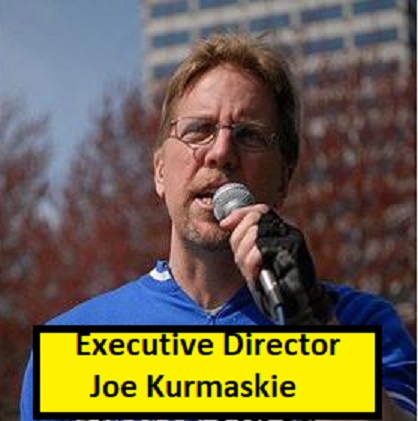 Joe Metal Cowboy Kurmaskie joins the rebranded WashCo Bikes, as the executive director. "I'm pumped to invigorate the suburbs and outlying community west of Portland with exciting new programs while expanding quality existing ones.
Yes, this is an uphill, herculean challenge that I absolutely relish."
More specifics in days to come, but with your help we'll:
Create a weekend festival of the wheel around our holiday Adopt A Bike program - including ride, safety rodeo and bike themed gift fair.
Re-brand and expand our summer bike camps.
Create a Freewheeling Festival Of The Bike around our adopt a bike program, including a Bike Craft weekend and holiday ride.
Bring a Sunday Parkways series to all of Washington County.
Expand and grow our community bicycle shop in Hillsboro and new shops/presence countywide.
Create a Mechanics- scholarship and internship program.Expand our advocacy and safety classes, clinics, safe routes and education.